Turkey Tail Mushroom 8:1 Extract


Min. 41% β-Glucans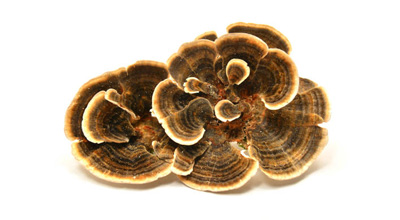 Stacks with
this Ingredient
61 st
Most Popular
Ingredient
Primary Effects / Benefits
Immune Support
Cognitive Function
Antioxidant
Key Benefits of Turkey Tail Mushroom 8:1 Extract
Hot water extract from fruiting bodies†
Certified organic †
Provides a minimum of 30% Beta-Glucans †
What is Turkey Tail Mushroom Extract? 
Wild Trametes, commonly called Turkey Tail, grows naturally worldwide in all types of forests although it is primarily found on deciduous trees. Numerous strains of Trametes have been investigated, analyzed and chosen for their production of beta-glucans. In the 1980's scientists in Japan and China utilized Trametes to develop new two new drugs: PSK and PSP. These drugs are manufactured using fermentation of mycelium in liquid culture. The process generates very unique protein-bound polysaccharides. These compounds are concentrated and refined into very powerful drugs, and some of the few mushroom-based products that have actually progressed through clinical trials and have been approved by government agencies for use.
Trametes is a powerful immunomodulator that is useful for all types of conditions where immunity is compromised.
Common Ranges
200 - 1000mg
Dosing Interval
Once a Day
Optimal Use
Empty Stomach
Taste Profile
Characteristic
Ingredient Code
P101
Stability & Storage
Stable at room temperature. Prone to clumping in humid conditions over a period of time. Store with desiccant pack in tact.
Safety Information
Always check with a qualified healthcare professional before taking this supplement if you are pregnant, nursing a baby, under 18 years of age, or if you have any known or suspected medical condition(s) and/or are taking any prescription or OTC medication(s). Keep out of reach of children and pets.
Disclaimer
This product is not intended to diagnose, treat, cure, or prevent any diseases. These statements have not been evaluated by the Food and Drug Administration. Supplements are not a substitute for a healthy, varied diet.