Guarana Extract

22% Caffeine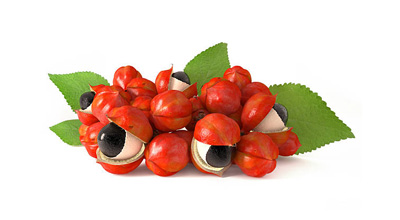 Stacks with
this Ingredient
21 st
Most Popular
Ingredient
Primary Effects / Benefits
Energy
Endurance
Focus
Memory
Key Benefits of Guarana Extract
May boost energy levels †
May support cognitive functions †
What is Guarana Extract? 
Guarana extract is made by processing the seeds into a powder. Amazonian tribes have used guarana for centuries for its therapeutic properties. It contains an impressive range of stimulants, such as caffeine, theophylline and theobromine. 
Guarana is commonly touted for its ability to reduce fatigue, boost energy and aid learning and memory. It has also been linked to better heart health, weight loss, pain relief, healthier skin, and a decreased risk of age-related eye diseases. 
Common Ranges
100 - 500mg
Dosing Interval
Once a Day
Optimal Timing
Morning / Afternoon
Optimal Use
Empty Stomach
Ingredient Code:
P052
Stability & Storage:
Stable at room temperature. Not prone to clumping under normal conditions.
Safety Information:
Always check with a qualified healthcare professional before taking this supplement if you are pregnant, nursing a baby, under 18 years of age, or if you have any known or suspected medical condition(s) and/or are taking any prescription or OTC medication(s). Keep out of reach of children and pets.
Disclaimer:
This product is not intended to diagnose, treat, cure, or prevent any diseases. These statements have not been evaluated by the Food and Drug Administration. Supplements are not a substitute for a healthy, varied diet.
Synergistic Ingredients
Theacrine (TeaCrine®)

Primary Benefits / Uses

Energy

Endurance

Focus

Cognitive Function

Learn more