Nigellin® Nigella Sativa 5% Extract


Min. 5% Thymoquinone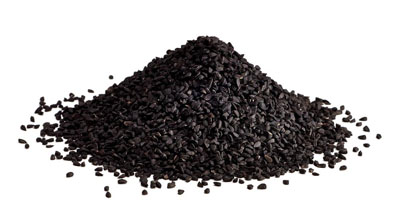 Stacks with
this Ingredient
63 rd
Most Popular
Ingredient
Primary Effects / Benefits
Antioxidant
Neuroprotection
Inflammation
Immune Support
Digestion
Key Benefits of Nigellin® Nigella Sativa 5% Extract
Also known as Black Seed Extract
Minimum 5% Thymoquinone 
May support immune system †
May help balance mental health †
May help stimulate metabolic function †
What is Nigellin® Nigella Sativa 5% Extract? 
Nigella Sativa is an annual flowering plant in the ranunculus family (Ranunculaceae) that is primarily found in Southern Europe, North Africa and Southwest Asia.
Also known as Black Seed Extract, Nigella Sativa Extract has a long history of documented use dating back 2,000 years in traditional and Ayurvedic systems. 
Nigellin® is a registered trademark of Sabinsa Europe GmbH.
Common Ranges
200 - 600mg
Dosing Interval
Once a Day
Optimal Use
Empty Stomach
Taste Profile
Peppery, characteristic
Solubility
Soluble in water
Ingredient Code
P125
Stability & Storage
Stable at room temperature. Includes the whole seeds. This appearance does not change
Safety Information
Always check with a qualified healthcare professional before taking this supplement if you are pregnant, nursing a baby, under 18 years of age, or if you have any known or suspected medical condition(s) and/or are taking any prescription or OTC medication(s). Keep out of reach of children and pets.
Disclaimer
This product is not intended to diagnose, treat, cure, or prevent any diseases. These statements have not been evaluated by the Food and Drug Administration. Supplements are not a substitute for a healthy, varied diet.
Nigellin® is a registered trademark of Sabinsa Europe GmbH.
Synergistic Ingredients
Related Ingredients
Mushroom Immune Complex (Bodyguard)

Immune Support

Antioxidant

Inflammation

Memory